Angelique » Busty Dildo Lovers 2
Unable to play the trailer? Try one of these:
MP4 480X360
There are two distinct periods in Angelique's SCORE career. There is the period from 1994 to 1999 and her second coming in 2002 after a few years taking a break from modeling and traveling and was actually working as a waitress in Germany (she is fluent in German as well as her native Portugeuse). This scene from Busty Dildo Lovers 2 is the second coming. Angelique has filled out and added a few pounds to her gorgeous body. She came to Miami at our request and was as charming, friendly and as sensuous as ever. Her raw sexuality was still pouring out of her.
November 6th, 2011
21:19 mins
Rating
Download Options
Full Scene Download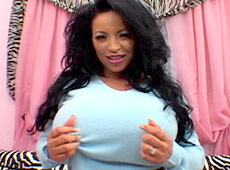 Five-minute Clips
More Angelique Videos