Angelique » And Gabi Makes Three
Unable to play the trailer? Try one of these:
MP4 480X360
Here's a classic Angelique scene from the big '90's as Angelique and Gabi, a German waitress who happened to be serving a German Voluptuous reader one day. Impressed, this gentleman got Gabi's number and contacted SCORE's office. Soon Gabi found herself in London taking off her clothing. The lucky dude is Marino, who gets to photograph Gabi and Angelique in a smoking hot girl-girl tryst. The lust in the room grips them and Marino dives into this girl-flesh with gusto. Fucking, sucking and frantic tit-groping fills the afternoon's lusty schedule as his work and camera is put to the side.
November 18th, 2011
20:17 mins
Rating
Download Options
Full Scene Download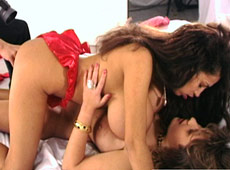 Five-minute Clips
More Angelique Videos